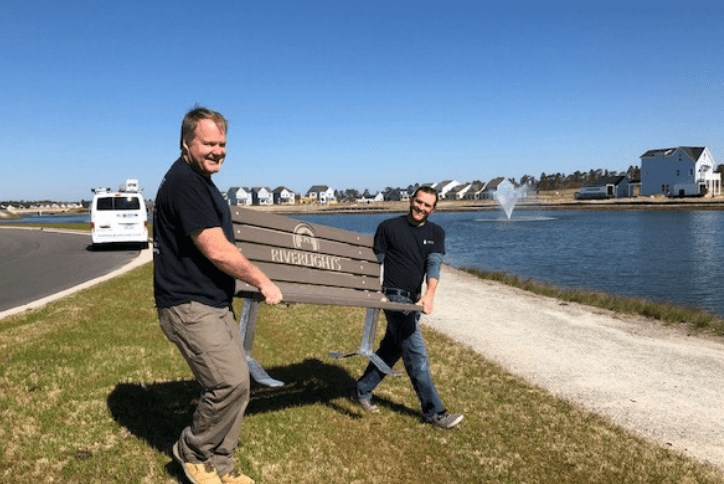 Nonprofit Spotlight: Kids Making It
            Many things make Wilmington a captivating and endearing place to live: a reverence for the antiquated past, an admiration for small local businesses, and a love for community involvement and giving back. RiverLights holds philanthropic work in especially high regard and has collaborated with a multitude of non-profit organizations such as Nourish NC, A Bike for Every Child, and New Hanover County Schools. Kids Making It is one of these local non-profit organizations that RiverLights has dedicated themselves to and who have worked to enhance the quality of life both in RiverLights and the greater Wilmington area.
            Inspired by his introduction to the world of fatherhood and his background as a lawyer, Jimmy Pierce founded Kids Making It in 2000. Pierce had become very familiar with the struggles that many youth face when trying to pursue success after growing up in a setting designed to allow them to fall through the cracks. The final catalyst that drove him to make the decision to eventually cease the practice of law and move back to North Carolina was the birth of his son in 1988. In 1996, he and his family finally returned to North Carolina in order to care for his mother and it was during this time that he began the transition to launching Kids Making It. After being awarded a seed-money grant in 2000, his dream to work with at-risk youth became a reality and has grown steadily since then.
            They now serve over 500 kids in the Wilmington area through five different youth programs.  As the program continues to grow, so does their space-  his practice is no longer run in his garage, as it once was, but is now based out of a 5000 sq. ft. building with another 4300 sq. ft. addition being added to it as of last year. Their operation not only features the woodworking shop and finishing room, but they have also begun a retail store where youths participating in Kids Making It programs are able to sell their goods. 100% of the profit made with the purchase of these goods go directly into the pockets of the individual kids that made them.
            RiverLights is proud to have commissioned Kids Making It in 2018 to begin designing and creating the RiverLights branded benches featured throughout the community. At this time, these benches can be spotted in Live Oak Commons, in many of the pocket parks throughout the community, and around the 38-acre lake. RiverLights currently has 10 of these benches with many more to come in the future as the development continues to grow. Kids Making It has committed its efforts to providing a creative and productive outlet to the youth of Wilmington as a means of enhancing their lives and the RiverLights development is honored to assist in providing a space in which these kids may showcase their craftsmanship. Next time you're taking a stroll around the lake or hanging out in Live Oak Commons, be sure to check out their craftsmanship first hand!