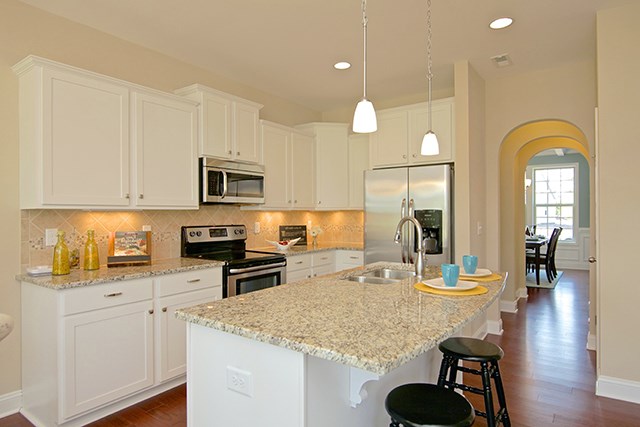 Builder Spotlight: H&H Homes
Established in Fayetteville, North Carolina, H&H Homes was initially formed to provide high-quality new home construction at unusually low price points to military families serving at Fort Bragg. As a hand-selected RiverLights™ homebuilder, H&H Homes has expanded its customer base and is providing an exceptional selection of new homes in Wilmington's newest Cape Fear riverfront community. Each home will be carefully crafted to ensure that it meets the highest standards of quality.
Recognized for its excellence in major publications such as Builder Magazine, H&H Homes is a customer-committed firm that takes pride in offering high-end features to its homebuyers. A few of the features that will be included in the company's homes at RiverLights include:
Detached garages with breezeways or covered patios that create a private courtyard perfect for outdoor entertainment
Lanais or verandas that extend the living space to the outdoors
Front craftsman or cottage style porches that offer hours of scenic relaxation
One-story and two-story designs to accommodate a variety of families allowing them to age in place
Grand spa-like master shower retreats
H&H Homes is committed to ensuring that each of the new homes it builds in RiverLights will meet the needs of Wilmington's families. The team applies its quality-assurance program to each home it constructs, which begins well before actual construction begins. This conscientious mindset extends throughout every step of the building process, and each home undergoes multiple exhaustive inspections to ensure that the new home construction conforms to the highest industry standards.
Being a local builder, H&H Homes has a strong commitment to helping homeowners enjoy every aspect of their new home. The company is passionate about delivering high levels of livability, sustainability, and value to new homeowners in the expanding, culturally rich, and vibrant Wilmington market. And allowing homebuyers to make personalized decisions about elements of their homes ensures they're engaged and informed during every step of the new home construction process.
As one of the new Wilmington homebuilders, H&H Homes is dedicated to ensuring that each home-buying experience is a celebratory event. The future homeowners in RiverLights will certainly appreciate the excellence and value displayed in the work of H&H Homes.