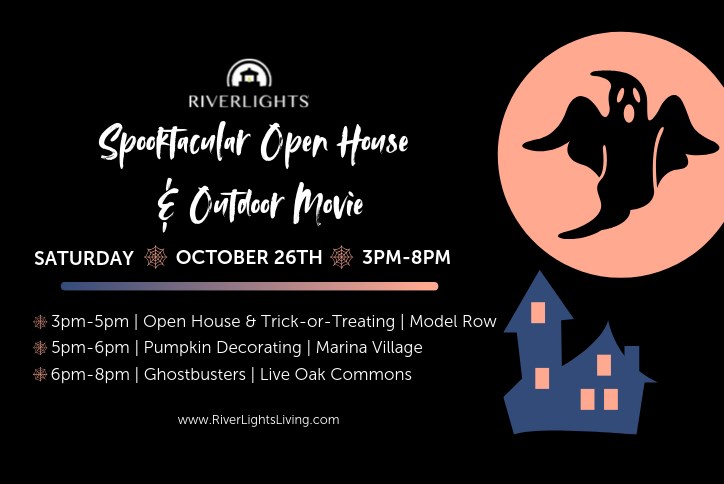 Spooktacular Open House & Outdoor Movie
            Wilmington is notable to many as a beach town with never-ending summer activities to enjoy for both tourists and residents alike. But the end of summer is by no means the end of the fun in Wilmington. During the fall you can find festivals, concerts, and more to celebrate the falling leaves and cooler weather. Riverlights gets in on the action with their Spooktacular Open House event on October 26th where you can Trick-or-Treat Yourself to Your New Home with plenty of fun activities to kickoff Halloween in the Port City.
            The Spooktacular Open House event will take place from 3 p.m. to 8 p.m. on October 26th with a variety of activities to participate in. Bring the kids out between 3 and 5 p.m. for trick-or-treating along model row and a chance for the adults to participate in the open house for an opportunity to see all the amazing homes that Riverlights has to offer and meet with the amazing builders helping to make Riverlights home for so many. From 5 to 6 p.m. everyone is invited to Marina Village to decorate pumpkins and then enjoy Riverlights' Movie Under the Oaks, Ghostbusters!
            No matter the season, Riverlights always has something lively to enjoy for both residents and visitors alike. The Riverlights Spooktacular Open House event provides an easy, fun environment for kids to trick-or-treat while affording adults and parents a chance to view some of the amazing homes throughout the community. Head out to Riverlights on October 26th for Halloween fun with candy, pumpkin decorating, and a movie under the live oaks to end the evening.