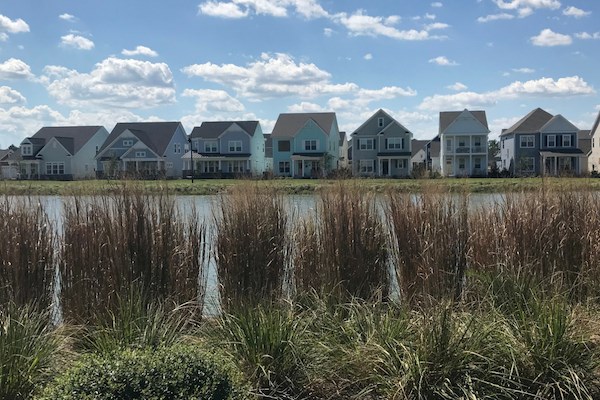 Meet our Builders!
With nine amazing builders working tirelessly to make sure that, even under quarantine, Riverlights continues to grow, we count ourselves fortunate in such a chaotic time. For those new to their Riverlights exploration or refreshing themselves after some time away, we want to introduce our builders that have helped to make this neighborhood extraordinary. 
H&H Homes: 
Founded in Fayetteville, NC, H&H Homes originated with the mission to provide high quality homes at an affordable price for active and retired military personnel located in the Fayetteville area. During their 25 years of building, they have branched out to various areas of North Carolina and specialize in eco-friendly features that strive to minimize time consuming maintenance and recurring costs on your dream home. 
70 West Builders: 
Building throughout coastal Carolina, 70 West Builders are master craftsmen at coastal cottage homes. Their lakefront homes incorporate outdoor living spaces to the home and offer convenient access to the many amenities of Riverlights including extensive trails, expansive lake for kayaking and paddle boarding, and much more. 
Southern Gale Townhomes by Laurel Homes: 
Riverlights strives to offer homes that suit every need imaginable, from single family homes to townhomes. Laurel Homes is one of Riverlights' builders that currently specialize in townhome products. Laurel Homes offers a maintenance free lifestyle for its residents that includes exterior maintenance as well as lawn care. 
Legacy Homes by Bill Clark: 
A nationally-recognized builder in the Carolinas specializing in new home construction since 1977, Legacy Homes by Bill Clark is the custom home building division of Bill Clark. With years of experience under their belt, Bill Clark has perfected new home craftsmanship and how to make their clients feel like family. 
Pulte Homes: 
With large front porches, smart storage solutions throughout the home, expansive loft living spaces, and Smart Home technology, Pulte Homes bring a lot to the table for their clients. They have mastered an easy and simple buying experience with over 65 years of experience that is sure to help you craft and build your dream home. 
Trusst Builder Group: 
An experienced builder that specializes in traditional architecture with southern style, charm and character, Trusst Builder Group embodies the unique characteristics of Riverlights and Wilmington perfectly. Trusst homes include beautiful finishing features that come standard in all of their homes and make the building process a breeze with a dedicated team that works diligently to make you feel like family. 
PBC Design + Build: 
Famous for their clean designs and a refined aesthetic that perfectly captures a traditional coastal feel, PBC Design + Build can make your custom home dreams come true. If a spacious single family home is the lifestyle you're looking for, a custom home in the Hamp's Landing neighborhood of Riverlights is the home for you. PBC Design + Build can help you bring the home of your dreams into reality with their luxury homes suited to your lifestyle. 
Charter Building Group: 
Charter Building Group crafts large, spacious homes with an unparalleled design center that will help you personalize every aspect of your home. Added enhancements such as outdoor kitchens, fireplaces and patios, extensive living spaces and more make Charter Building Group one of a kind. 
Del Webb: 
Del Webb, Riverlights' 55+ age-qualified neighborhood, specializes in active adult living that can't be found in any other community. These energy efficient homes are perfectly tailored to meet all the wants and needs of active adults. With a 15,000 square foot amenity center, sports courts, fitness center, as well as social and hobby clubs, there is never a dull day in Del Webb at Riverlights.