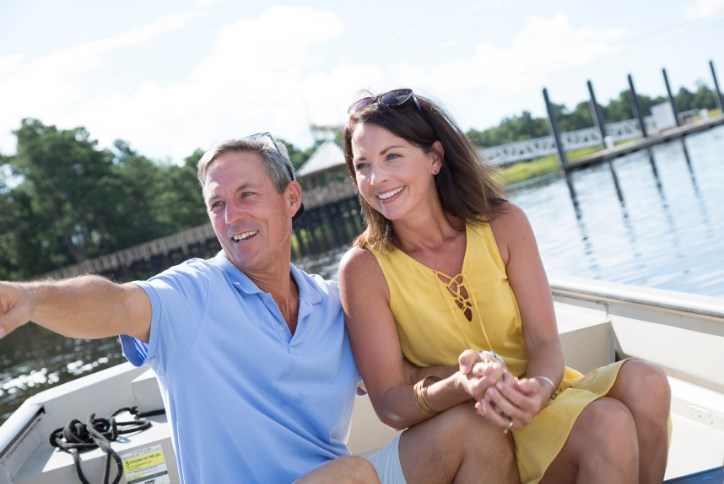 Top Spots for a Wonderfully Romantic Date in Wilmington, North Carolina
With so many cultural hot spots, awe-inspiring parks, and historical sights to see, it can be hard to even know where to start with the perfect Wilmington date. But fear not — whether you are young and in love or your bond is aged to perfection, there's something for couples of all ages, experiences, and tastes to try here. Ahead, view our roundup of romantic date ideas and spots that spark joy:
Find a fit that feels natural.
In Wilmington, there is no shortage of activities for outdoor enthusiasts and nature lovers! Bond together over a sunset beach stroll, or even pack a picnic to enjoy right there in the sand.
Head to Airlie Gardens for a truly unique experience among some of North Carolina's most stunning scenery. For a relatively low entry fee, you and yours can wander through acres of azaleas, interesting art galleries, and pristine gardens.
Another option: Pedal away your nervous butterflies with a bicycle ride around the loop at Wrightsville Beach! This local hot spot is perfect for people who want to enjoy one another's company while stretching their legs and enjoying the outdoors. Or, take the wheels out of the equation and simply walk around the 2.5-mile route.
If the weather is right and your significant other is willing, dip a toe in a slightly more adventurous date like kayaking the Cape Fear River, taking a sunset boat tour or even fishing side by side on a local pier.
Dive into dinner and captivating conversation.
For a romantic, laid-back dining experience full of riverfront charm and fresh seafood, Smoke on the Water is second to none! Located in Marina Village in the heart of the RiverLights community, Smoke on the Water offers couples delicious meals with a whole heaping side dish of sunset views.
Or, if you're looking for the ultimate romantic dinner spot, don't miss Brasserie du Soleil. Savor authentic French cuisine in an atmospheric setting at this Wilmington area restaurant — after all, no one does romance quite like the French!
Go for the classic movie-and-ice cream combo.
Enjoy what's arguably the most traditional date night activity, but with a Wilmington twist! Because Wilmington is such a hub for arts and entertainment (there's a reason it's called "Hollywood East!") there are often film festivals and interesting indie films playing in some part of town. Check out the full lineup of Wilmington film festivals before you plan your big night out!
And, be sure to check out the latest event calendar for Movie Under the Oaks in RiverLights. There's nothing like lying under the stars and watching a classic movie!
Afterward, indulge in a sweet treat from a local shop like Boombalatti's Homemade Ice Cream on North 4th Street. Since Wilmington is relatively warm all year long, you won't have to worry about getting too chilly! If you want to swap out the sweets for something a little stronger, consider a nightcap at The George, located on the historic downtown Wilmington waterfront. Enjoy the patio's more relaxed setting and river views, or head inside for a more formal experience.
Whether you're just getting to know each other or celebrating decades of marriage, there are endless options for a wonderful date in the Wilmington area. Start planning today, and be ready to WOW your significant other soon!