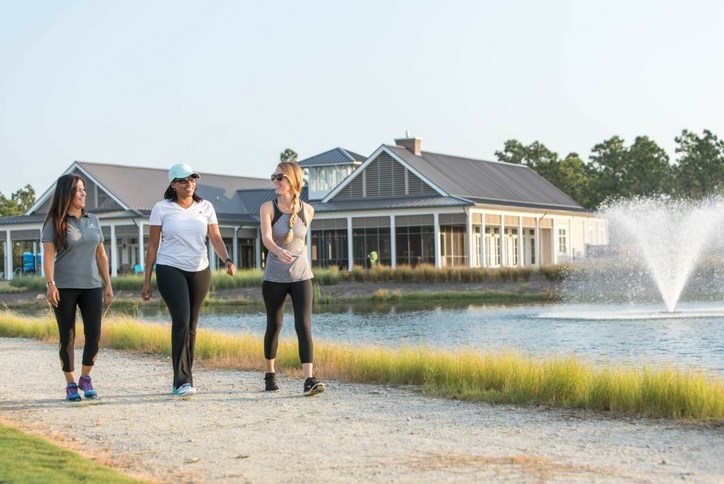 Explore Our Trails at RiverLights on National Trail Day
National Trail Day is a celebration of America's great walking, hiking and biking trails. Hosted annually on the first Saturday in June, the American Hiking Society encourages you to get out and move your body, cherish your local trails, and help service the trails through community cleanup efforts. There are miles of trail networks scattered throughout Wilmington and the surrounding area… we've rounded up some of our team favorites to share with you!
Naturally, the trails at RiverLights are at the top of the list. While our community currently boasts around 5 miles of trails, there will be approximately 8 miles upon completion of the network. Residents can hop right on the lake trail from any point in the neighborhood and enjoy a 3.1 mile loop. Venture on one of the trails that split from the lake and you'll find yourself at quaint coves along the Cape Fear River or at the boardwalk in Marina Village. All RiverLights trails are bike, dog and pedestrian friendly. If you're looking to switch it up from you neighborhood trails every once in a while, check out some of our team's favorite walking spots around town!
Hugh MacRae Park is located in the middle of Wilmington, about a 15 minute drive from RiverLights, where you can enjoy a 1.55 mile trail. To sweeten the deal, Hugh MacRae also features a playground, a splash pad, picnic shelters, tennis courts, basketball courts, a dog park and garden area.  
On the other side of RiverLights, Carolina Beach State Park has nearly 9 miles of trails that wind through a variety of distinct habitats and are relatively flat and easy to walk. While on your stroll, take note of the diverse plant and animal life you may see. This park is a haven for Venus Flytraps (note that these are sacred to Wilmington- so look but don't touch)! Dog and family-friendly, CB State Park is a great place to spend your morning wandering in nature.
The Gary Shell Cross City Trail is an off-road multi-use trail that extends 15 miles and is part of the East Coast Greenway that stretches from Florida to Maine, making it the country's longest walking and biking route. Hop on at Halyburton Park and for those looking to hit some mileage, take it all 15 miles to the drawbridge at Wrightsville Beach.
One of Wilmington's most popular jogging spots, Greenfield Lake is home to a 5 mile loop. Bring the family and enjoy a picnic, paddle boats, and a walk around the lake before catching some live music at the outdoor amphitheater.
Wrightsville Beach has The Loop which stretches 3 miles along the Intracoastal Waterway and Banks Channel. This is the perfect sunny route for those looking for a little mileage with water views sprinkled along the way.
As always, one of the most well-known walking areas is the Historic RiverWalk located in downtown Wilmington. The Riverwalk is a 1.7 mile, mostly boardwalk, stroll that runs along the Cape Fear River. Not only will you wander past quaint shops, horse-drawn carriages, and old cobblestone streets, you can also catch a glimpse of the USS North Carolina Battleship as well as the Cape Fear Memorial Bridge.
We hope you are able to spend this year's National Trail Day exploring some of Wilmington's favorite trails! Life is better outside, which is why RiverLights is wellness centered, focusing on outdoor lifestyles and living a life that shines bright.