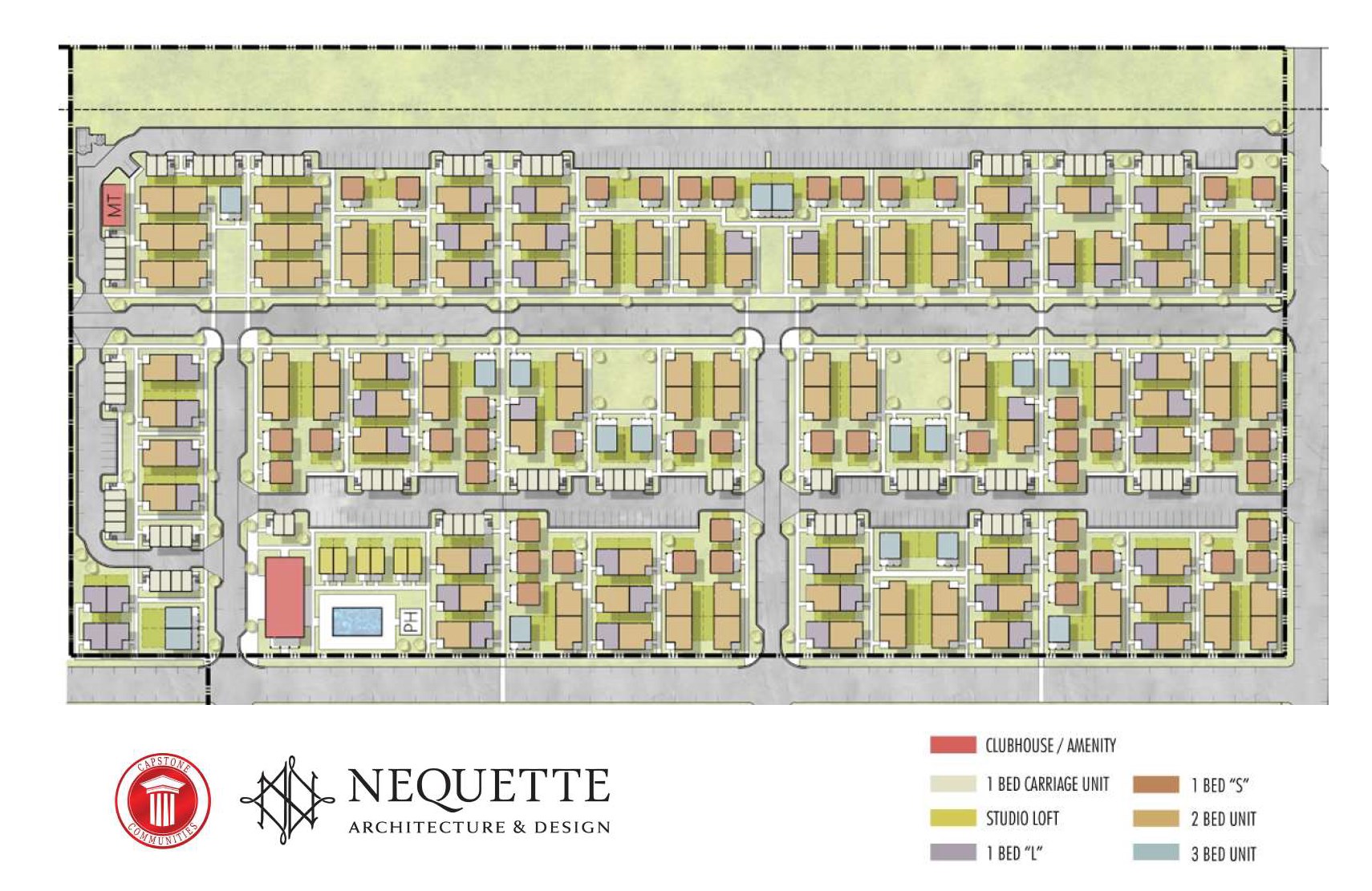 Riverlights, Capstone Communities Introduce Wilmington's First Build-for-Rent Neighborhood
WILMINGTON, N.C.– 8.26.2021 – Riverlights, Newland community's 1400-acre master-planned community situated along the Cape Fear River, is introducing the area's first build-for-rent (also referred to as single family-for-rent) neighborhood in partnership with Birmingham-based Capstone Communities.
Construction on The Cottages at Riverlights, a low-density multifamily neighborhood of 279 homes began in early August and we anticipate further information on pricing to be released Fall 2022. The 21-acre neighborhood is the first project underway in a 120-acre mixed-use village located at the southern entrance of Riverlights.
"We are delighted to be introducing the build-for-rent concept to Wilmington as it fills an important niche for many in today's real estate market, while adding to Riverlights' diverse residential offerings," said Riverlights' Vice President for Operations Nick Cassala. "We anticipate The Cottages at Riverlights will be home to young professionals, buyers awaiting a home under construction, empty nesters and families looking for an independent home for relatives." 
Designed to reflect and integrate Riverlights' architectural standards, The Cottages at Riverlights will maintain the coastal vernacular and color palette established throughout the community. Developed with a "new urbanism" style featuring sidewalks, pocket parks and open green spaces, The Cottages will offer a mix of one, two and three-bedroom cottages, each with its own private, fenced yard, as well as studio lofts and two-story carriage units.
Each home will range from 650 to 1,350 square feet and include nine-to-12-foot ceilings, quartz countertops, wood-grain flooring, in-unit washers and dryers, a smart home technology package, 24/7 on-call maintenance and optional enclosed garage parking. Neighborhood amenities include courtyards with pavilions and grill stations, a central clubhouse with a resort-style pool, state-of-the-art fitness center, dog park and valet trash.
Riverlights is partnering with Capstone Communities to bring a depth of professional knowledge and experience in the rapidly growing build-for-rent housing space. Capstone is currently under construction on similar cottage-style developments across the Southeast in Huntsville, Alabama; Daytona Beach, Florida; and at Nexton in Summerville, South Carolina, another Newland master-planned community.
"Since 2007, our team has developed cottages in more than 20 student housing communities across the country and have found this model to be highly successful," said John Acken, executive vice president of Capstone Communities. "As we begin introducing the cottages to the multifamily sector, our goal is to meet the needs of Wilmington renters and build a true sense of community that is unlike a traditional apartment setting. Our team at Capstone sees great potential in the area and looks forward to contributing to Wilmington's growing economy."
Capstone's in-house construction entity, CBI Construction Services, is serving as the general contractor for The Cottages at RiverLights. Construction financing is being provided by Truist Bank and Nequette Architecture & Design, in Birmingham, is the lead architect for the project. 
About the Build-for-Rent Concept
Build-for-rent communities are one of the fastest growing trends in the multifamily real estate segment. According to market experts (including John Burns Real Estate Consultants), BFR concepts generate approximately 20 to 30 percent rental rate premiums compared to traditional multifamily apartments because of their design and amenity offerings. Most BFR communities consist of single-story cottage-style homes and private yards with access to upscale apartment-like amenities.
According to industry expert, Brad Hunter, about 64,000 BFR units were built in 2020 with an additional 80,000 planned for this year. He sees this trend continuing to ramp up if builders are able to find land for new projects (The Business Journals).
About Capstone Communities
Capstone Communities is a Birmingham-based commercial real estate firm specializing in development, management and construction of student and multifamily housing. Capstone Communities was formed in January 2012 as part of the restructuring of Capstone Development, an active and experienced developer for more than 21 years with a portfolio that included 118 communities across 31 states, 58,000 beds and $2.7 billion project costs. Capstone Communities has recently introduced its conventional cottage-style development program to the multifamily sector and is currently under construction on several properties across the Southeast in Alabama, South Carolina, North Carolina and Florida. For more information, visit capstone-communities.com.
About Riverlights
Riverlights is an approximately 1,400-acre planned mixed-use community located in Wilmington, N.C. Riverlights features a variety of residential home sites, commercial space, eight public parks, a beautiful 38-acre freshwater lake, community gathering spaces, and views and access to the Cape Fear River. Upon completion, Riverlights is planned to have approximately 3,000 single family, patio, multifamily and townhomes.
Riverlights by Newland is owned in a joint venture partnership between North America Sekisui House, LLC (NASH) and Brookfield Residential, and is proudly managed by Brookfield Properties. These partners share a deep commitment to sustainable development practices and apply these core values to the vision, planning, and development of their communities. Riverlights by Newland is one of more than 20 communities this partnership manages together across the US. For more information, visit riverlightsliving.com.
# # #