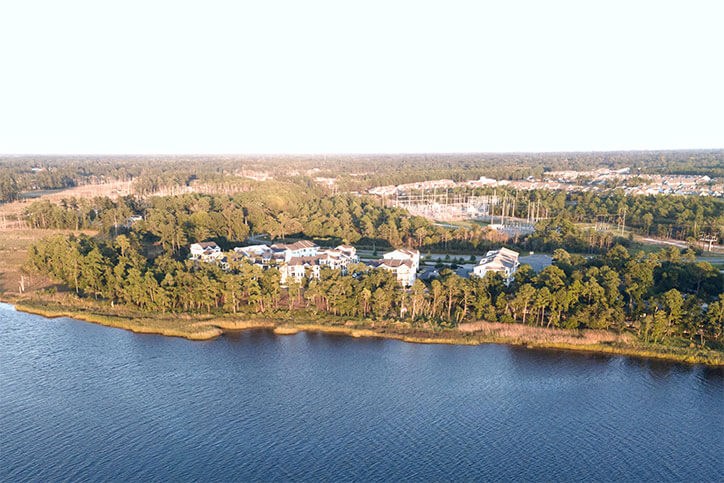 Waterfront Home Sites at Riverlights Offer Stunning Access to the Cape Fear
At a time when few waterfront lots are available in Wilmington, Riverlights, the master-planned and mixed-use community situated along the Cape Fear River, is introducing two entire neighborhoods, a total of 29 home sites, many of which are waterfront or water-view. Together, River Row and Hamp's Landing take full advantage of Riverlights' prime location, with home sites that offer long river views and old-growth trees, and none requiring the pilings waterfront buyers generally expect.  
But each neighborhood also presents its unique sense of place.   
River Row features ten waterfront lots adjacent to Marina Village, Riverlights' boutique commercial square. Residents here will be delighted by a more urban vibe with an easy walk to restaurants, shopping and the community's central public square. 
Hamp's Landing, with 19 lots on approximately 15 acres, is a neighborhood of larger homes and home sites with an impressive tree canopy and topography that is unusual for the coastal plain.  Nine of the neighborhood's home sites sit along the river's edge, but all enjoy a stunning water view. 
Of the combined 29 home sites released, only 21 are still available, with home and lot packages offered exclusively through PBC Design + Build and AR Homes.  River Row prices start in the mid $800's with Hamp's Landing, where lots and homes are larger, starting in the low $900's.   
Neighborhoods -- inside a Neighborhood 
Both builders see the real advantages and extra appeal of placing luxury properties inside this dynamic master-planned community. For Jeff Bartholomew, principal of AR Homes, it is that inclusion that has driven "tons of interest.  For buyers seeking that luxury lifestyle on the water, there's just nothing else like Riverlights. It's very welcoming with shops and restaurants and club-like amenities delivering a day-to-day that doesn't require you to run all around the city," he said.   
Dave Spetrino, of PBC Design + Build, agrees. "Riverlights has done a stellar job in the land planning of the community," he says. "Hamp's Landing is such a special neighborhood. The abundance of hardwood and old growth trees coupled with the high topography and bluffs overlooking the river make it an inspirational place to build."   
 PBC Design + Build is also nearing completion of the last phase of RiverView Townhomes in Marina Village, which helped establish Riverlights' beginnings.  For Mr. Spetrino, "the ability to transition from the townhomes into this small enclave of single-family homes on River Row really achieves that true 'mixed use' community we envisioned. That's exciting for us."  
Understated Luxury 
Home designs in both River Row and Hamp's Landing feature open floor plans with sweeping riverfront and nature views, chef's kitchens, expansive outdoor living areas, well-appointed owner suites and luxury finishes throughout. The heavily wooded lots average a half-acre in Hamp's Landing where homes are 3,500 sq ft or larger. In River Row, homes will range from 2,500 to 3,500 sq ft. 
 Mr. Bartholomew is enthusiastic about the spec home his company is finishing in Hamp's Landing. "It's most definitely a luxury home but with understated elegance," he says.  "Ten-foot ceilings and eight-foot interior doors, huge amounts of glass and big sliding doors that bring the outside in -- our plans live larger than the square footage would imply."  The 3,600 square foot home, with 3 bedrooms and 3.5 baths, will be complete in December and is available for $1.15 million. 
It will be the second home in Hamp's Landing. The first, built by PBC Design + Build, sold for $1.1 and is a testament to the company's design philosophy for exceptionally clean design to reflect the tranquil, coastal style of the Cape Fear region. Mr. Spetrino offers, "We've spent decades building waterfront homes, but the land at Riverlights is something special.  Because none of the waterfront home sites are in the flood plain our clients can enjoy main level living and expansive views without the pilings. The views are spectacular." 
The Buyer Builder Relationship 
Riverlights welcomes interested buyers at its information center in Marina Village, where they are introduced to the community, its amenities and active, outdoor lifestyle. From here, they visit the model homes and builders' sales representatives who shepherd the sales process with lots and homes sold together. "The direct relationship between knowledgeable builder representatives and their buyers is an advantage for all by streamlining the process," explains Michela Hochschild, Riverlights' marketing director.   
And, indeed, the traffic and sales activity for these luxury properties has been tremendous. River Row was only introduced in July and already three lot and home packages are under contract; four are under reservation.  Hamp's Landing has five lots sold or under contract and an additional four under reservation. Mr. Bartholomew reports that AR Homes is "getting tremendous interest among buyers who are thrilled to discover riverfront lots inside a thriving community. With fully customizable options, buyers are seizing this opportunity for luxury living at a price point that demonstrates value.  We are getting tons of positive feedback, talking to more serious buyers, taking reservations, and filling up our build schedule through winter and spring," he says. 
 That energy is felt throughout Riverlights where 850 homes have been sold over the past five years, 200 of those sold in the past 9 months, at an average of five sales every week.   
What Lies Ahead 
The continued trajectory for Riverlights' is altogether exciting, especially as Wilmington adapts to unprecedented growth. Never has the Cape Fear River been so embraced by a residential community, and the developers of Riverlights are seizing the momentum.  About halfway through their 10-year master plan, the developers are looking ahead. Two more phases of single-family homes will follow, along with a 120-acre mixed use district.  Here, residents will find retail that caters to essential needs. A dental practice, veterinarian, salon and spa, convenience store, dry cleaners, exercise studio and the like are all possible uses.  New Hanover County Schools has also announced that it plans to open an elementary school for the 2025/26 school year on land that has been pledged by the developer in this mixed-use village.   
And that is to say nothing for what is already here:  a great variety of residential options, a thriving boutique commercial area, eight public parks; a 38-acre freshwater lake with a Lakehouse for community gatherings, a pool and workout facilities; several miles of nature paths, and a dock for crabbing, fishing or setting out on one's kayak, and community fire pits that consistently draw neighbors together.  Which isn't surprising at all to David Spetrino: "Don't get me wrong, I've got nothing against the sunrise, but the sunsets over the river are tremendous. Every day it's a different experience."