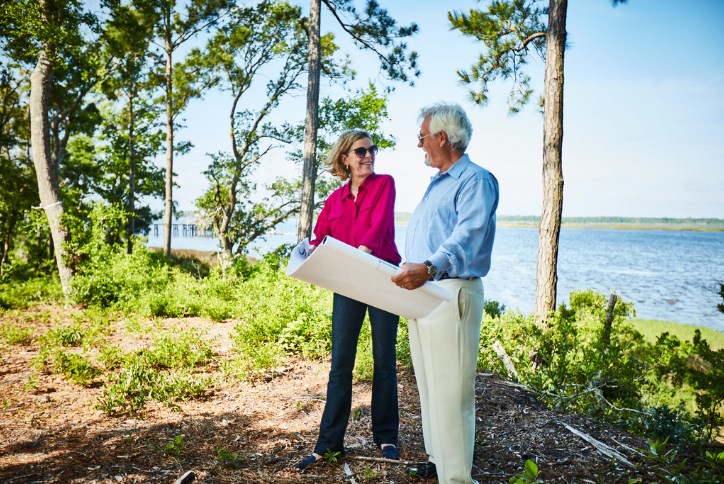 Keeping Up with Demand is Business as usual at Riverlights
Mark Twain once said, "Buy land, they're not making it anymore."  But at Riverlights there is a drive to deliver new neighborhoods for buyers, both local and well beyond, who are eager to make this award-winning community along the Cape Fear River their home.
Riverlights is a 1400-acre master-planned, mixed use community being developed by Newland, which has been creating planned residential and urban mixed-use communities for over fifty years. Just five years into a 12 to 15 year project, Riverlights includes single and multi-family home sites; a humming commercial village; eight public parks; a 38-acre freshwater lake with a Lakehouse for community gatherings, a pool and workout facilities; miles and miles of nature paths, and a dock for crabbing, fishing or setting out on one's kayak. These are only some of the amenities. There are plenty more. And, that is to say nothing of the spectacular sunsets over the Cape Fear River that never cease to take one's breath away.  With all that, it is not terribly surprising that so far in 2021, Riverlights has already sold nearly 150 new homes, and more every week.
"While today's pace of sales throughout Wilmington, if not the country, is unprecedented, we are accustomed to a high demand environment," said Riverlights' Vice President of Operations Nick Cassala. "We have the structure, the capital and the expertise to keep up with demand and are constructing new lots and will be introducing new phases of development to satisfy this accelerated market."  So there, Mr. Twain!
The Benefits of a Builder/Buyer Relationship
Riverlights has a welcoming information center at its Marina Village, where buyers and agents get introduced to the community, its amenities and active, outdoor lifestyle. From here, they visit the model homes where the builders' sales representatives shepherd the sales process with lots and homes sold together. "The direct relationship between knowledgeable builder representatives and their buyers is an advantage for all by streamlining the process," explains Nick.
There are currently nine builders with a tenth expected to join the community later this summer.  Among them is Legacy Page which has been a builder at Riverlights since 2018.  
Robin Campbell, director of sales and marketing for Bill Clark, says Riverlights is a unique community for the company. "Riverlights creates an opportunity for us to build homes in the Wilmington market in a community rich with amenities and a lifestyle that allows us to offer buyers a greater variety of options.  Our portfolio at Riverlights includes smaller patio homes, mid-size single-family homes and larger luxury homes," she said, adding "the demand for luxury living is increasingly sought after."  
Beyond the variety of builders and home styles available – there are no fewer than 60 different Homebuyer Page plans to choose among -- is the confidence that inventory keeps pace with sales.  "We have worked really closely with Newland to expand our portfolio of home plans available in Riverlights," explains Robin. "Our close communication allows us to anticipate future needs for lot purchases so we are able to navigate the balance between providing homes for immediate purchase as well as catering to our custom clients who wish to build from the ground up. We know that, for maintaining a strong partnership with the Riverlights' team provides us with a tremendous opportunity for long term success," she says. 
A Steady Supply of Land, Materials – and Buyers
Nick Cassala appreciates the direct relationship between builders and home buyers, particularly during this demanding period in home construction.  "Our builders do a great job of communicating with their customers.  And because they have a steady supply of land inventory and buyers, they are better able to contract with crews and subcontractors for a given number of homes per year. We meet with our builders regularly to discuss and focus on customer needs, buyer trends and industry topics to stay ahead of demand." he explains. 
A sterling testament to the Homebuyer Page is that Riverlights has had only one cancelation in 2021. Builders and their buyers alike know they can count on Newland to deliver on the amenities and growth plan that have been promised.  "We provide a reliable foundation for the entire sales and construction cycle," Nick said.
On the Horizon
About that growth plan.  Nick says Newland expects to release another 300 homesites to their builders over the next two to three years. "But if demand is there, we'll move even faster," he says.
Two more phases will follow, along with a 120-acre mixed use district which is already being prepared for the introduction of retail that caters to essential needs. A dental practice, veterinarian, salon and spa, convenience store, dry cleaners, exercise studio and the like are all possible uses.  In addition, earlier this year, New Hanover County Schools announced that it plans to open an elementary school for the 2025/26 school year on land that has been pledged by the developer in this mixed-use village. 
Sip, Shop and See For Yourself
To look to the future of Riverlights, however, is to miss what's here now.  With some 650 families that have all arrived over just a few years, there's a palpable sense of people building community.  It's a social, friendly, easy-going, "We love it here!" kind of place. It's on full display for Friday Nights at Riverlights, the first and third Friday of each month through October.  The open-air market in Marina Village features curated vendors, live music and food trucks to complement the sip and shop vibe of surrounding merchants.  It's a perfect to way to sample this growing community and catch that breathtaking sunset.