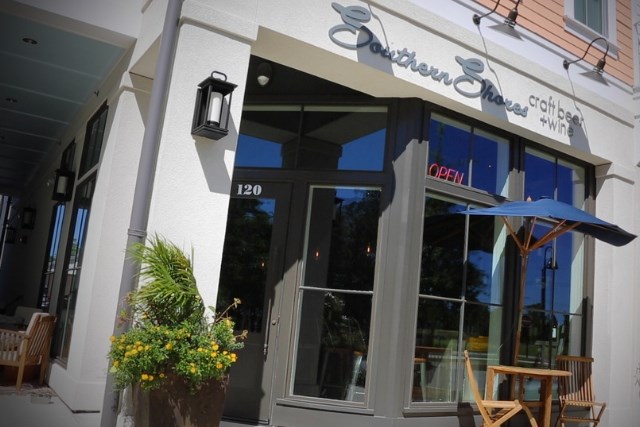 Southern Shores Craft Beer & Wine Opens At RiverLights
Marina Village at RiverLights is home to a new bar and bottle shop, Southern Shores Craft Beer & Wine. 
Owners Josh Lacy, Nathan Baird and Caitlin Pyatt say they are proud to be a part of the new community and look forward to providing a space for residents and visitors to gather at RiverLights. 
Lacy said the idea was to create a hybrid between a bar and a bottle shop, both a place to hang out and a place to stop in and grab a bottle of  wine or a six pack on the way home or on the way out to enjoy the sunset along the river. 
Southern Shores carries an extensive selection of North Carolina craft brews, and has several locally brewed beers on tap. In addition to beer and wine, Southern Shores also offers a full bar and several televisions for game watching. It currently operates as a private club, since food is not served on site. Lacy said however, that he is working with Tammy Tilghman of neighboring Magnolia Social Café to create a menu designed specifically for Southern Shores guests. 
"It just makes sense to work together on this because it will benefit us both," Josh Lacy said.
Southern Shores has a large, 34-seat bar with a lounge area, as well as outdoor seating.
"We're starting to see residents from the community stopping in to hang out so we're working toward building that local base," Lacy said. "Hopefully we will grow with the community and also draw people from the surrounding areas such as Independence Blvd. and Monkey Junction." 
Southern Shores will host its first tasting event on from 6 to 8 p.m. Sept. 28, featuring spirit-aged wines. 
Southern Shores's hours are 3 to 11 p.m. Monday to Thursday and noon to midnight on weekends.