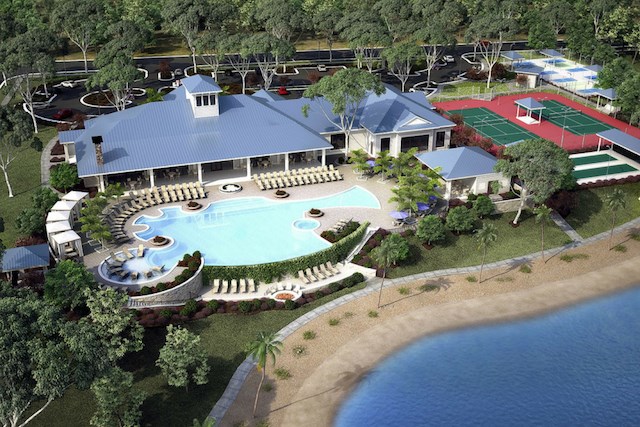 RiverLights Update: Amenities Open; More Homes, Retail, Apartments Coming
As the community prepares to celebrate the opening of amenities at Del Webb Wilmington in RiverLights, more changes are on the way for the 1,400-acre mixed-use development on River Road in Wilmington.

Those changes include starting construction on a second mixed-use building in Marina Village, the RiverLights commercial section along the Cape Fear River. The current mixed-use building includes retail and restaurants on the bottom and nine apartment on each of the top two floors.

"We are getting ready to start our second mixed-use building in the next 30 to 60 days," said Kace Coble, marketing manager at RiverLights, on Friday.

The second building will look much like the first, with retail on the bottom, but will be one story taller, with an additional nine apartments on each of the three top floors for a total of 27 units.

About a third of the existing 18 apartments are leased with six-month terms to those whose homes are being built at RiverLights, Coble said, with the rest available as standard apartment rentals.

The retail on the bottom of the first mixed-use building includes Magnolia Social Cafe, while another restaurant, Smoke on the Water, is a standalone feature of Marina Village.

Both restaurants opened before there were any residents at RiverLights.

"They were really embraced by the greater Wilmington community. Everyone was excited to have new waterfront options," Coble said.

More local retail and restaurants are on the way to Marina Village, Coble said. "Part of the original RiverLights developer vision was to try to keep as much of the work and the businesses here to support the local community as opposed to bringing in national chains," she said.

Officials said that since the community's grand opening in December 2016, RiverLights has also put a large focus on being a hub of events for the Wilmington community, with a full calendar this year that includes a monthly farmers market.

Including Del Webb Wilmington, an age-qualified community for residents 55 and older, RiverLights is now home to 150 families, Coble said. A total of 260 homes have been sold.

At full build-out, expected in about 8 to 10 years, the community is expected to hold nearly 2,300 homes. RiverLights has added homebuilders Laurel Homes, which is building townhomes in the $250,000 to $320,000 range, and Legacy Homes by Bill Clark, with a new product offering for empty nesters. 

Del Webb Wilmington officials are celebrating the opening of its amenity center Saturday. The general contractor is Monteith Construction Corp. 

Charlie Tipton, division president of Pulte Group, parent company of Del Webb Wilmington, said the opening is a major milestone for the community.

"Del Webb is focused on creating active communities that offer an enriched lifestyle for our residents. At the amenity center, residents will have the opportunity to gather together and enjoy each other's company as well as the amenities, including outdoor and indoor resort-style swimming pools, a state-of-the-art fitness center and sports courts," Tipton said in an email Friday. "There will also be a full-time lifestyle coordinator to provide a full range of activities and events. From pickleball to pottery, the opportunities are endless."

Asked whether he thinks the amenity center will lead to more sales, Tipton wrote, "When the Wilmington community and those migrating to the area get to see all that the new amenity center offers residents, it will clearly highlight what makes Del Webb so unique. The 15,000 sq. ft. building, along with indoor and outdoor activities, caters to a wide range of interests and opportunity for everyone to participate in something that is special to them. It also demonstrates the commitment we have to our residents and the community, which many potential buyers feel is important to look for in a developer. Their retirement dreams are just a short way from reality and we see this as a tremendous asset in the future performance of the community."
To read the full article, click here