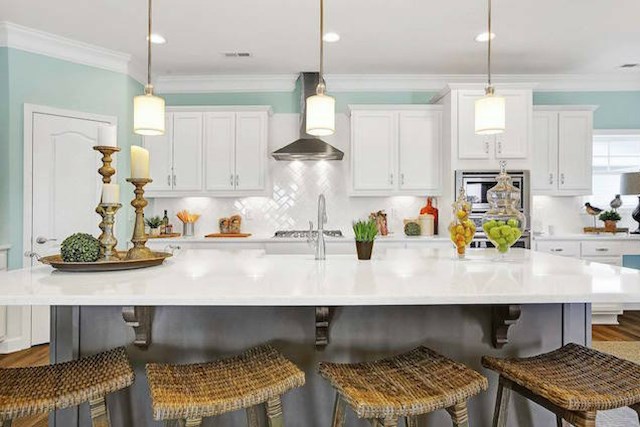 31st ANNUAL PARADE OF HOMES
EXPERIENCE RIVERLIGHTS LIVING AT THE 31st ANNUAL PARADE OF HOMES THIS APRIL
WILMINGTON, N.C. - April 20, 2017 - RiverLights, the newest mixed-use community in the Wilmington area, has been selected as this year's Showcase Community Partner for The Wilmington-Cape Fear Home Builders Association's 31st Annual Parade of Homes.
The coastal community celebrates family, care for the environment, and the preservation of the area's habitats while representing the true meaning of Southern heritage. The master builders behind the premier community are Trusst Builder Group, The Cottages Building Company, H&H Homes, Charter Building Group, Plantation Building Corp., Del Webb Wilmington, 70 West Builders, and American Homesmith.
"This is such a great honor for RiverLights and the builders that are making our community vision come true," said Jim Henry, vice president of development of Newland Communities. "Whether you are starting a family, embarking on a new adventure, or entering the golden years, RiverLights has something to offer everyone."
During the Parade of Homes, RiverLights will have nine homes available to tour, showcasing each model's unique style and customizable options that set RiverLights' homes apart from the rest. Outside of the homes, guests will also be able to explore the Cape Fear River waterfront community amenities featuring boardwalks and multiple parks. Relax in the hammocks in The Live Oak Commons and peruse shops and restaurants at the adjacent Marina Village to get the true experience of living like a RiverLights resident. 
The Parade will run two weekends, Saturday, April 22 and Sunday, April 23 and Saturday, April 29 and Sunday, April 30. The self-guided tour is free to the public and homes will be open from noon to 5 p.m.                                                                                                                                     
For more information about this year's 31st Annual Parade of Homes, visit WilmingtonParadeofHomes.com and for more information about RiverLights, visit RiverLightsLiving.com.
ABOUT RIVERLIGHTS:
RiverLights is an approximately 1,400-acre planned mixed-use community located in Wilmington, N.C. RiverLights will feature a variety of residential home sites, commercial space, eight public parks, a beautiful 38-acre freshwater lake, community gathering spaces, and views and access to the Cape Fear River. Upon completion, RiverLights is planned to have approximately 2,290 single-family, patio, and multifamily homes.
RiverLights is developed by Newland Communities, the largest private developer of planned residential and urban mixed-use communities in the United States. Approaching 50 years of experience, Newland and its affiliates have completed or have underway more than 140 diverse real estate developments, over 20 million square feet of commercial and retail space, and 175,000 residential units in 14 states. Visit NewlandCommunities.com.
MEDIA CONTACT:
The Brandon Agency
Emily Trogdon
(843) 916-2000