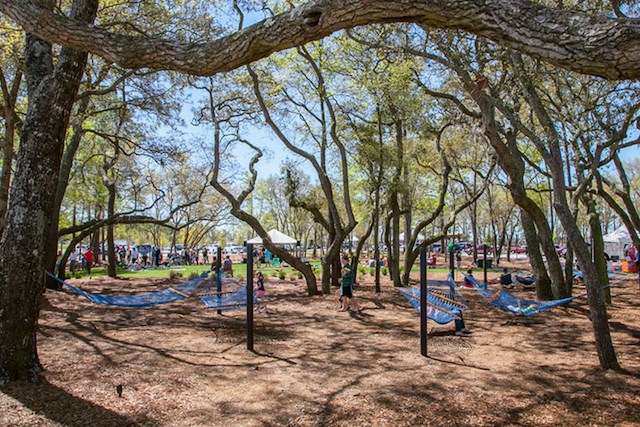 ENJOY YOGA & COFFEE UNDER THE OAKS THIS FALL
ENJOY YOGA & COFFEE UNDER THE OAKS AT RIVERLIGHTS THIS FALL
WILMINGTON, N.C. - Sept. 15, 2017 – RiverLights, Wilmington's premier coastal community, will host "Yoga & Coffee" for residents and non-residents to enjoy a relaxing and re-energizing morning to kick off their weekend this fall.
Yoga & Coffee will be held every Saturday in September and October at Live Oak Commons at RiverLights — the home of waterfront outdoor events and recreation. After an hour of instructor-lead yoga under the oaks, guests may enjoy complementary coffee and/or tea from the community's very own Magnolia Cafe. Yoga is $8 for residents and $10 for non-residents. There is no cap to the event and participants pay the yoga instructor on-site. Yoga is open to any age and any practicing level. Please bring your own water and yoga mat.
Yoga & Coffee will be held the following Saturdays: Sept. 23 and 30 and Oct. 7, 14, 21 and 28. In September, registration is at 7:30 a.m. at Magnolia Café followed by the yoga class at 8:00 a.m. In October, registration is at 8:30 a.m. at Magnolia Café followed by the yoga class at 9:00 a.m. 
"Everyone enjoyed our yoga and coffee series this summer, so we are thrilled to continue to offer the classes throughout the fall," said Jim Henry, vice president of operations of Newland Communities. "This is just another way of how the RiverLights community incorporates the joy of the outdoors and a healthy lifestyle into daily life. Our yoga and coffee series is a great way to get your Saturday started with serene experience under the beautiful oaks followed with delicious coffee. We hope to see new faces this fall!" 
Follow RiverLights on Facebook for Yoga & Coffee event updates and to learn about other RiverLights events. 
ABOUT RIVERLIGHTS:
RiverLights is an approximately 1,400-acre planned mixed-use community located in Wilmington, N.C. RiverLights features a variety of residential home sites, commercial space, eight public parks, a beautiful 38-acre freshwater lake, community gathering spaces, and views and access to the Cape Fear River. Upon completion, RiverLights is planned to have approximately 2,290 single family, patio, and multifamily homes. RiverLights is developed by Newland Communities, the largest private developer of planned residential and urban mixed-use communities in the United States. Approaching 50 years of experience, Newland and its affiliates have completed or have underway more than 140 diverse real estate developments, over 20 million square feet of commercial and retail space, and 175,000 residential units in 14 states. Visit NewlandCommunities.com.
MEDIA CONTACT:
The Brandon Agency
Emily Trogdon
(843) 916-2000