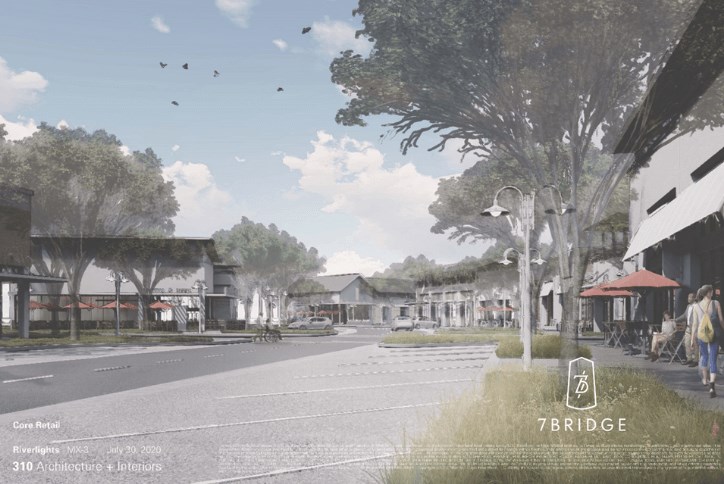 Riverlights Unveils Development Plans for 7BRIDGE, 37-Acre Commercial Village at Community's Southern Entrance
Riverlights, the 1,400-acre master-planned community situated along three miles of the Cape Fear River, is advancing plans for a 37-acre commercial village near the community's southern entrance. Named "7Bridge" for the seven lighthouses that guided ships to port from the early World Wars, the new commercial center is being developed as a bridge of its own, serving as a mid-way point between Carolina Beach and historic downtown Wilmington. With parcels for retail, entertainment, service commercial, and offices, 7Bridge is part of a larger 120-acre mixed-use village that will anchor the southern entrance to Riverlights with a variety of  residential projects including Argento, a new multi-family luxury apartment community and The Cottages, Wilmington's first single-family-for-rent neighborhood.
"We are developing this as a pedestrian friendly lifestyle and convenient commercial center that elevates the everyday for our Riverlights community and the surrounding area," said Nick Cassala, vice president of operations for Riverlights. This is the only site zoned for mixed-use development along River Road.  The businesses that locate here will conceivably be serving up to 14,000 existing residences within a 3-miles radius. Developers envision this upscale retail village and commercial center accommodating daily errands and service needs. Fitness facilities, small medical practices, professional services, a veterinarian or pet day care, exercise studios, and a coffee shop are the kinds of businesses anticipated. "We anticipate national brands and franchises will want to locate here, as well as independent entrepreneurs," Mr. Cassala added. 
Argento, the new luxury apartment community located in this mixed-use village, will be situated on River Road and Quigley Boulevard. The 17-acre parcel, designed for up to 286 multi-family units, sold to Sterling Development late last year. Plans are for Argento to be completed in 2024 with its residents contributing to the vibrant, active atmosphere of 7Bridge. 
Adjacent to 7Bridge is the site for a New Hanover County elementary school forecasted to open for the 2025/26 academic year, and The Cottages, Wilmington's first single-family-for-rent neighborhood. The City of Wilmington also has plans for a future public park on a 4.9 acre site with access to Motts Creek. Plans are for the initial businesses in the retail village of 7Bridge to open between late 2023 and mid-2024.
7Bridge is being represented by Bridge Commercial, a regionally focused commercial real estate firm headquartered in South Carolina. "We are delighted to represent such an outstanding project that is essentially one of the last remaining large commercial development sites available in the Wilmington area," said Dan Pellegrino, senior vice president of Bridge Commercial.
ABOUT RIVERLIGHTS:
Riverlights is an approximately 1,400-acre planned mixed-use community located in Wilmington, N.C. Riverlights features a variety of residential home sites, commercial space, eight public parks, a beautiful 38-acre freshwater lake, community gathering spaces, and views and access to the Cape Fear River. Upon completion, Riverlights is planned to have approximately 3,000 single family, age-qualified, multifamily, townhomes and custom waterfront properties.
Riverlights is owned by a subsidiary of North America Sekisui House, LLC (NASH) and is proudly managed by Brookfield Properties as part of the Newland communities portfolio. These partners share a deep commitment to sustainable development practices and apply these core values to the vision, planning, and development of their communities. Riverlights is one of more than 20 communities this partnership manages together across the US. For more information, visit riverlightsliving.com. 
ABOUT BRIDGE COMMERCIAL:
Bridge Commercial is a regionally focused commercial real estate firm headquartered in Charleston, South Carolina and representing clients across the southeast. Bridge's brokers are nationally recognized for their experience and expertise. Bridge's mission is to best serve our clients with the combination of collaborative teamwork, experienced and dedicated talent, and the leverage of technology and innovation.