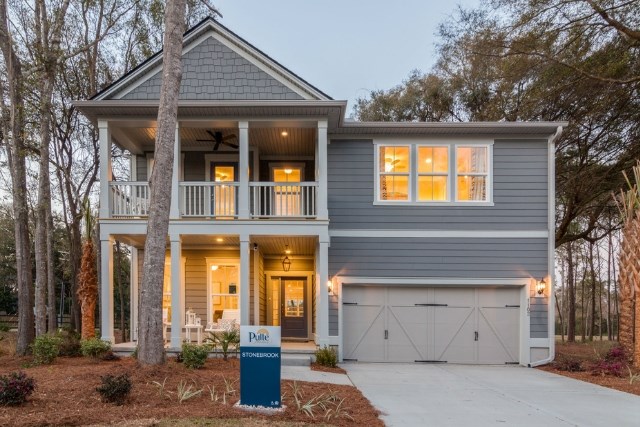 Growth Continues With New Builder, Pulte Homes
New builder brings three to six bedroom home layouts to the community; perfect for growing families.
WILMINGTON, N.C. – Jan. 4, 2019 – RiverLights™, a premier coastal community along the Cape Fear River in Wilmington, North Carolina, is pleased to welcome Pulte Homes® as its newest builder.
Pulte Homes boasts life-enhancing designs that are perfect for the growing family with large flexible floor plans, versatile living spaces, personalization options, and energy efficient features.
With a focus on family, Pulte Homes will offer three- to six-bedroom layouts with large airy front porches for neighborly connections, smart storage solutions, two car garages, large loft spaces and multipurpose entryways, as well as master suite options designed for your a hidden oasis.
"We are very pleased to welcome Pulte Homes to our builder portfolio here at RiverLights," said Jim Henry, vice president of operations of Newland Communities. "As we hand select each builder to join the RiverLights community, Pulte Homes was an obvious choice because of the personalization and flexibility it offers homebuyers. From young to multi-generational families, these home designs are very thoughtful and allow our residents to grow and evolve in a home that is unique to them."
Pulte Homes will offer five different home designs in RiverLights, with square footage ranging from 1,841 to 2,869, starting in the low $300,000s. Pulte Homes will break ground on its model homes in early 2019, joining RiverLights eight hand-selected builders: 70 West Builders, Charter Building Group, Del Webb Wilmington, H&H Homes, Legacy Homes by Bill Clark, Laurel Homes, PBC Design + Build, and Trusst Builder Group.
View the upcoming Pulte Home offerings at www.riverlightsliving.com.
 ABOUT RIVERLIGHTS:
RiverLights is an approximately 1,400-acre planned mixed-use community located in Wilmington, N.C. RiverLights features a variety of residential home sites, commercial space, eight public parks, a beautiful 38-acre freshwater lake, community gathering spaces, and views and access to the Cape Fear River. Upon completion, RiverLights is planned to have approximately 2,290 single family, patio, and multifamily homes. RiverLights is developed by Newland Communities, the largest private developer of planned residential and urban mixed-use communities in the United States. Headquartered in San Diego, CA, Newland and its affiliated companies have completed or have underway, more than 140 diverse real estate developments, more than 20 million square feet of commercial and retail space, and 175,000 residential units in 13 states
Visit NewlandCommunities.com.
RiverLights is owned by a business entity of North America Sekisui House, LLC (NASH), and is being developed by Newland Real Estate Group, LLC, the largest private developer of planned residential and urban mixed-use communities in the United States. NASH and Newland share a deep commitment to sustainable development practices and apply these core values to the vision, planning, and development of their projects. RiverLights is one of more than 30 assets the NASH-Newland partnership owns and manages together across the US.
About Pulte Homes Pulte Homes is a national brand of PulteGroup, Inc. (NYSE: PHM). Pulte Homes builds consumer inspired homes and communities that provide the move-up buyer the best quality of life.  Only Pulte Homes offers the combination of innovative Life Tested™ home designs with an unwavering commitment to quality and attention to detail. For more information about Pulte Homes, visit Pulte.com.
                             # # #
MEDIA CONTACT:
The Brandon Agency
Emily Trogdon
(843) 916-2000