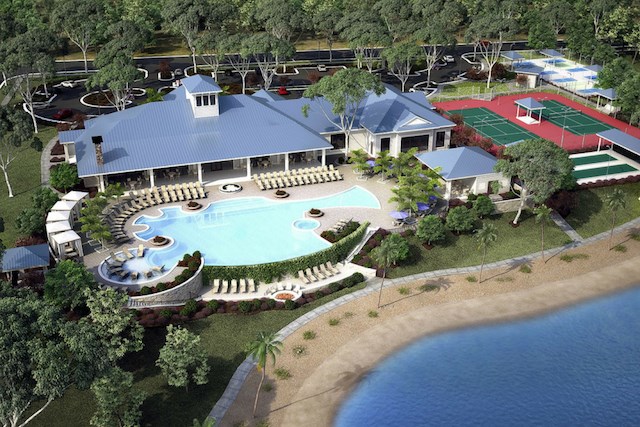 RiverLights Exceeds 2017 Home Sale Goal & Brings New Local Business and Home Offerings in 2018
As RiverLights commemorates a successful first year with record home sales, the completion of nearly all its amenities and 104 families living in their new homes, the community looks forward to an eventful 2018 with the addition of new restaurants and shops, a full schedule of events and new specialty home builders to foster its community centric coastal lifestyle.
With a premier location along the Cape Fear River, RiverLights has become one of Wilmington's most desirable and fastest growing communities. In fact, RiverLights exceeded its annual home sales goal by 20% in 2017. The community has made major headway with new home construction from their nine local and regional builders, including the newest local builder Laurel Homes which designed the coastal inspired Southern Gale Townhomes, perfect for couples, young families and retirees. In 2018 the community will introduce additional floor plans from existing builders along with exclusive home designs from much anticipated specialty builders.
RiverLights was on the fast track in 2017 and completed nearly all of its outdoor and resident amenities including piers and board walks along the Cape Fear River, miles of trails (including the 3-mile Lake Loop), playgrounds and parks (Live Oak Commons, Ember Park, Driftwood Park and Portside Park) a Lake House, salt-water pool, gym and day docks. Named a "2017 Best Kayaking Community" by Ideal Living, RiverLights completed Boat Builder Park to give kayaks and paddleboards waterfront access. The Del Webb Amenity Center also broke ground in 2017 and is expected to open in the summer of 2018.  
In addition to outdoor amenities, two local restaurants opened their doors this past year, Magnolia Social Café and Smoke on the Water, both of which have become fast favorites among Wilmington locals. The community is attracting even more local business owners and expects to welcome several new restaurants and retail shops within RiverLights in 2018.
Live Oak Commons has become the new hub for Wilmington events and activities. With ample outdoor space and waterfront views, RiverLights is a choice event venue for local organizations, festivals and private events. This past year RiverLights curated countless special events that will continue throughout 2018 including the educational Discovery Series for kids and families, art and wine events, cooking classes, yoga classes, outdoor Movies Under the Oaks, the Summer Concert Series featuring local bands, outdoor festivals, pop-up-shops, 10K and 5K fun runs – including the annual Dashing Thru the Glow – and much more.
"The community is really coming to life," said Jim Henry, vice president of operations of Newland Communities. "Now that most all of our amenities are complete, new home construction underway and a we have full roster of events in 2018, our residents and neighbors will enter 2018 with the full experience of the active community lifestyle that we aim to foster. While we have had an incredible year in 2017, we are truly looking forward to the growth and new initiatives that are coming in 2018."
The overall mission of RiverLights is to create an environment where residents can live fully, seamlessly connecting their home to a dynamic community that offers all of the joys of an outdoor lifestyle along with local shops, restaurants and events – all at their doorstep. To learn more about the community and to stay up to date on news, visit www.riverlightsliving.com or visit the info center in Marina Village at 109 Pier Master Point, Suite 100, Wilmington, NC 28412.
ABOUT RIVERLIGHTS:
RiverLights is an approximately 1,400-acre planned mixed-use community located in Wilmington, N.C. RiverLights features a variety of residential home sites, commercial space, eight public parks, a beautiful 38-acre freshwater lake, community gathering spaces, and views and access to the Cape Fear River. Upon completion, RiverLights is planned to have approximately 2,290 single family, patio, and multifamily homes. RiverLights is developed by Newland Communities, the largest private developer of planned residential and urban mixed-use communities in the United States. Approaching 50 years of experience, Newland and its affiliates have completed or have underway more than 140 diverse real estate developments, over 20 million square feet of commercial and retail space, and 175,000 residential units in 14 states. Visit NewlandCommunities.com.
MEDIA CONTACT:
The Brandon Agency | Emily Trogdon
etrogdon@thebrandonagency.com | (843) 916-2000