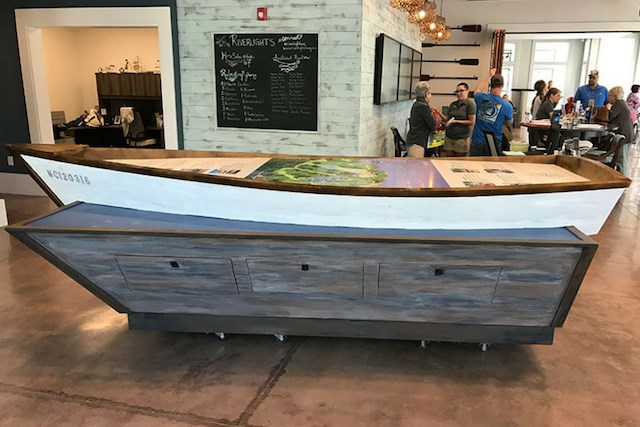 DEL WEBB HONORED WITH MAX! AWARD
RIVERLIGHTS HOMEBUILDER DEL WEBB HONORED WITH MAX! AWARD AT WILMINGTON-CAPE FEAR HOME BUILDERS ASSOCIATION 
WILMINGTON, N.C. - March 20, 2017 - The Wilmington-Cape Fear Home Builders Association (WCFHBA) awarded RiverLights homebuilder—Del Webb—with a MAX! Award for 'Best Sales Model for a Detached Home' at its annual Marketing Achievement Excellence (MAX!) Awards Gala at The Terraces on Sir Tyler.
Jaymie Dimbath, vice president of sales and marketing for PulteGroup, Inc., accepted the award. Del Webb was recognized for its Martin Ray design, specifically for a new detached home, which will be featured in the RiverLights community. The home highlights a large working kitchen, perfect for the everyday cook, open dining and living areas for entertaining and versatile space for the owner to personalize. The Martin Ray model showcases some of its popular personalization including a fireplace, extra-large owners' shower and sunroom.
"We are happy for our featured homebuilder, Del Webb, and the recognition they are receiving for their exquisite work," said Bill Mumford, vice president of development for Newland Communities and responsible for the development of RiverLights. "Their popular customizations stand apart from the rest and we are excited about their contributions to the Wilmington area and the RiverLights community."
The MAX! Awards are presented by the Wilmington-Cape Fear Home Builders Association, a nearly 1,000 member-firm trade association that provides services to members that enhance their success and stability. The largest trade association in Eastern North Carolina, the Association serves as the voice of the building and development industries and strives to advance professionalism and promote community involvement. The WCFHBA is recognized as a positive influential force for responsible growth by protecting property rights and the privilege of home ownership. For more information, visit http://www.wcfhba.com/.
ABOUT RIVERLIGHTS:
RiverLights is an approximately 1,400-acre planned mixed-use community located in Wilmington, N.C. RiverLights will feature a variety of residential home sites, commercial space, eight public parks, a beautiful 38-acre freshwater lake, community gathering spaces, and views and access to the Cape Fear River. Upon completion, RiverLights is planned to have approximately 2,290 single family, patio, and multifamily homes. RiverLights is developed by Newland Communities, the largest private developer of planned residential and urban mixed-use communities in the United States. Approaching 50 years of experience, Newland and its affiliates have completed or have underway more than 140 diverse real estate developments, over 20 million square feet of commercial and retail space, and 175,000 residential units in 14 states. Visit NewlandCommunities.com.
MEDIA CONTACT:
The Brandon Agency
Paul Hughes
(843) 916-2000