Events
October 15-16, 2022 10:00AM-5:00PM
Harvest of Homes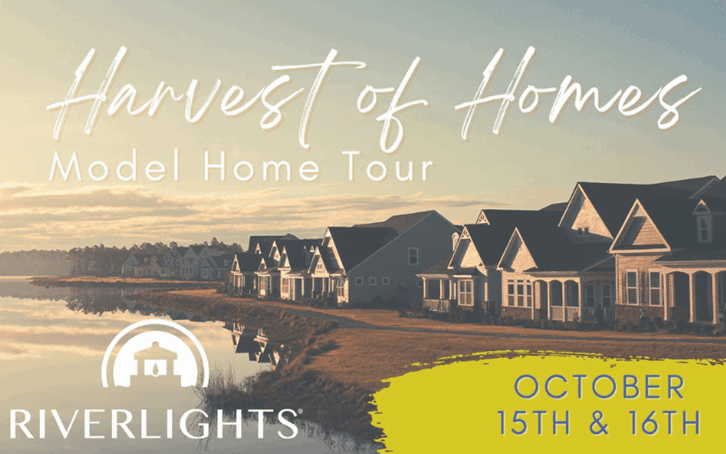 October 15th & 16th
Riverlights
Enjoy the crisp fall air and get acquainted with Riverlights at our Harvest of Homes Model Home Tour & Event taking place on Saturday, October 15th & Sunday, October 16th! You'll have the chance to leisurely tour 8 model homes by the area's best homebuilders. First stop, head to the Riverlights Information Center for your tour map, and a sip from our complimentary cider station. Ready to build your dream home? Our builder representatives will show you available homesites in the NEWEST phase of Riverlights! Be among the first to see the exciting new phase of our growing community.

After touring our model row, you won't have to go too far to grab a bite to eat with three restaurants conveniently located in Marina Village - Smoke on the Water, Girls with Dough, and The Getaway Café. Oh, and if you want to get some shopping in, we have that covered too! On Saturday (October 15th) 30+ local vendors will be selling an array of handmade products, goods, and décor at our fall pop-up market from 10 am-2 pm! Live Music will also linger in the background from two artists taking the stage.
Now, when we say an action-packed weekend- you won't be disappointed at Riverlights! Saturday evening, legendary local band, Machine Gun will take the main stage beneath the canopy of trees in Live Oak Commons located in Marina Village from 4 pm-7 pm. Join us for self-guided home tours, live music, good eats, plus family fun and football games all weekend long (October 15th & 16th).
Event Details
Saturday, October 15th | 10am-5pm
Tour 8 model homes open from 10 am-5 pm. Complimentary Cider Station at The Riverlights Information Center from 10 am-5 pm
Riverlights Pop Up Market in Live Oak Commons 10 am-2 pm with 30 + local vendors
Community Concert featuring Machine Gun from 4 pm-7 pm
Sunday, October 16th | 12pm-5pm
Prefer a little more laid-back tour? Tour our 8 model homes and head back to Marina Village to grab a beverage of choice and watch your favorite football team at Smoke on the Water, Club Golf Indoor Bar, or Southern Shores